Let's take an in-depth look at the September 2022 SSD benefits statistics report from the Social Security Administration (SSA). This monthly snapshot shows how disability pay and beneficiary numbers changed during the past 30 days. That way, people on disability benefits can see how their checks compare against the national average. Our analysis includes newly updated numbers from both federal programs: Social Security Disability Insurance (SSDI) and Supplemental Security Income (SSI).
---
---
September 2022 SSD Benefits Statistics Report
Total Number of Social Security Disability Beneficiaries: 8,949,000
Disabled Workers: 7,703,000
Spouses of Disabled Workers: 93,000
Children of Disabled Workers: 1,154,000
Average Monthly Social Security Disability Benefit Amount: $1,232.11
Disabled Workers: $1,362.58
Spouses of Disabled Workers: $376.85
Children of Disabled Workers: $429.96
How the September 2022 SSD Benefits Statistics Report Affects Beneficiaries
The September 2022 SSD benefits statistics report shows the same downward trend we noted every month except for April 2022. During the past year, the SSD program struck 345,000 total beneficiaries from its active-payment rolls. That's a little less than 29,000 people every month! Disabled workers saw the most losses (-25,000) since August's report came out. Spousal beneficiaries stayed flat month-over-month. And there are now 4,000 fewer children getting SSD payments for September: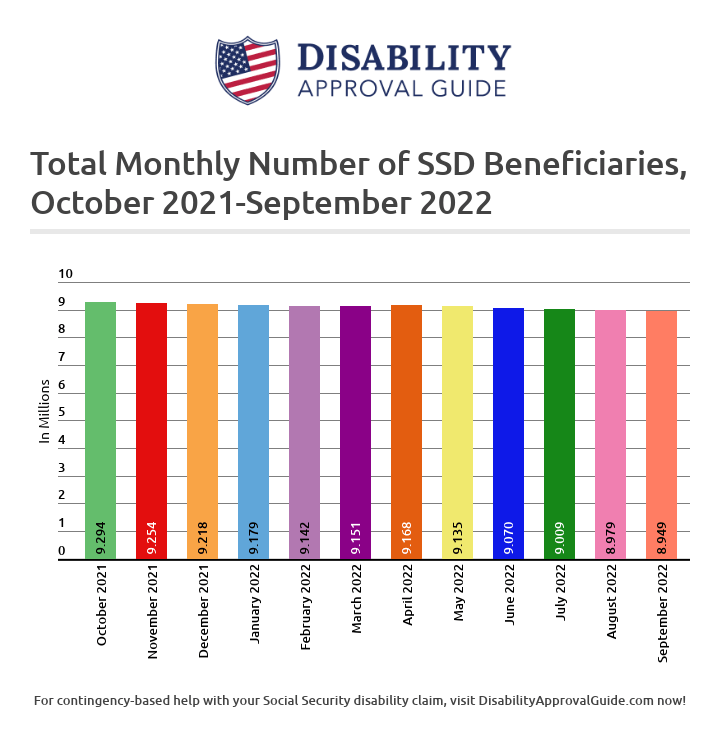 In other words: Since this time last year, total SSD beneficiaries in active-payment status shrank by 3.71%. But how many new people did the SSA award SSD benefits to so far in 2022? Here's how it breaks down:
1,218,179 total applicants for Social Security disability
368,806 awarded benefits
SSA approved 30.3% of SSD claims submitted YTD in 2022
September 2022 SSD Benefits Statistics: Looking Deeper at the Monetary Stats
The September 2022 SSD benefits statistics report also lists this month's avg. SSD benefit payments. While most groups saw an increase, average SSD payments to spousal beneficiaries decreased $.50 since August. However, benefits for children rose $.51 in September. Disabled workers themselves received $.24 more, on average, in SSD benefits this month. Overall, the total SSD payment nationwide increased $.31 since August:
It's important to note that the nationwide SSD payment for September is averaged across all four groups. For disabled workers, the current average SSD pay amount is $1,567/month. Retirees on regular Social Security get paid $1,673.88/month.
Supplemental Security Income (SSI) Data in the September 2022 Report
Updated SSI beneficiary numbers and pay amounts also appear in the September 2022 SSD benefits statistics report. The only group that gained new SSI beneficiaries since August is seniors aged 65 and older:
Total SSI beneficiaries: 7,567,000 (-41,000)
Children under 18 receiving SSI: 1,004,000 (-15,000)
SSI recipients aged 18-64: 4,238,000 (-29,000)
SSI recipients aged 65+: 2,325,000 (+4,000)
And here is September 2022's average SSI payment broken down by age group:
$622.76/month (all SSI beneficiaries nationwide, averaged)
$730.30/month for minor children
$659.36/month for those aged 18-64
$509.80/month for people at least 65 years old
You May Qualify for Legal Assistance
The SSA is nearly 3x more likely to award you benefits if a Social Security attorney files your application. Those who qualify for legal assistance typically receive at least $12,000 in lump-sum backpay and monthly benefits. We can connect you with a local expert for a free, no-obligation claim review by phone today.
These lawyers work on contingency. This means if you don't win, then you pay $0 in legal fees. But if you do win, then you'll only pay a small, one-time fee.
Ready to see if you may qualify? Click the button below to start your free online benefits evaluation now!
Get Your Free Benefits Evaluation
Lori Polemenakos is Director of Consumer Content and SEO strategist for LeadingResponse, a legal marketing company. An award-winning journalist, writer and editor based in Dallas, Texas, she's produced articles for major brands such as Match.com, Yahoo!, MSN, AOL, Xfinity, Mail.com, and edited several published books. Since 2016, she's published hundreds of articles about Social Security disability, workers' compensation, veterans' benefits, personal injury, mass tort, auto accident claims, bankruptcy, employment law and other related legal issues.