The November 2018 SSD benefits statistics report from the Social Security Administration is here, so let's dive in. This monthly SSA report shows how disability beneficiary numbers and average payments changed over the last 30 days. We track statistical changes to show how your own SSD benefits compare to the national average. Below, we'll explain how the disabled workers, spouses and children categories changed since October's report came out.
---
---
November 2018 SSD Benefits Statistics Update
Total Number of Social Security Disability Beneficiaries: 10,183,000
Disabled Workers: 8,557,000
Spouses of Disabled Workers: 119,000
Children of Disabled Workers: 1,507,000
Average Monthly Social Security Disability Benefit Amount: $1,067.08
Disabled Workers: $1,199.91
Spouses of Disabled Workers: $340.63
Children of Disabled Workers: $370.02
How the November 2018 SSD Benefits Statistics Report Affects Beneficiaries
The November 2018 SSD benefits statistics report is the first showing a month-over-month increase in total beneficiaries this year. Today, 12,000 more people get disability benefits than we saw in October's report. The disabled worker category saw the biggest increase at 9,000 new beneficiaries. The dependent children category added 4,000 new beneficiaries, too.
Much like last month, the spouse category stayed flat, according to the November 2018 SSD benefits statistics report. Since the SSA strikes fraud, deceased and ineligible cases from its rolls between reports, this month's rise is quite interesting. That means one or more categories listed here rose more than the numbers we're seeing due to these SSA-directed removals. When beneficiary numbers go up, it can make average disability claim review times stretch out even longer. It's also likely that numbers rose ahead of the SSA's 2.8% payment increase for 2019.
November 2018 SSD Benefits Statistics: Looking Deeper at the Monetary Stats
Unfortunately, only one beneficiary category in the November 2018 SSD benefits statistics report got a pay raise this month. Dependent children received $.36 more in November's payments, on average, compared to October. Average payments to disabled workers stayed flat, while spouses lost $.14 month-over-month compared to October. The total average payment amount decreased $.4 in November.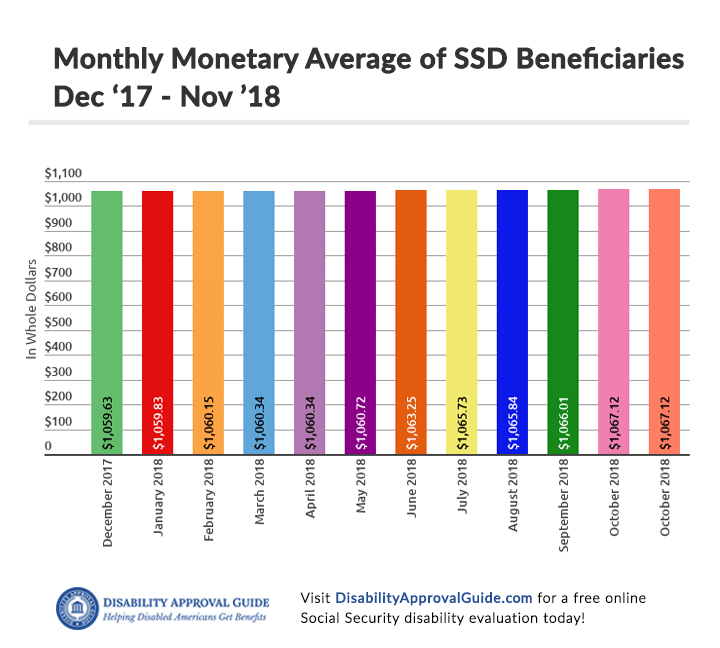 We're not sure what to expect in December's report, but January 2019's average payments should reflect the 2.8% COLA increase. If you haven't yet filed your claim, submit it now to beat the rush before 2019's raise kicks in!
How to Qualify for Legal Assistance With Your Claim
Have you ever written outside the margins while filling out a form? Each year, 2 in every 5 first-time disability applicants get denied benefits for making "mistakes" exactly like that! And the SSA's disability claims review process already takes half a year on average — even for clear-cut cases. Imagine another whole year with no income when you're too disabled to work and struggling to pay your bills. Why would anyone do that when professional help filing your claim costs nothing upfront?
An experienced lawyer will ensure your application's error-free and includes all medical evidence needed to support your case. Already applied once and got turned down? All disability attorneys work on contingency, so you'll pay nothing now for legal help filing your appeal. Whether you're filing your first benefits claim or appealing after denial, lawyers don't get paid unless you do. And if a lawyer does help you win, you'll only pay a small, one-time fee. It's the best way to get paid the most benefits you're owed faster than fighting the SSA on your own.
Ready to see if you may qualify? Click the button below to start your free disability benefits evaluation now.
Get Your Free Benefits Evaluation
Lori Polemenakos is Director of Consumer Content and SEO strategist for LeadingResponse, a legal marketing company. An award-winning journalist, writer and editor based in Dallas, Texas, she's produced articles for major brands such as Match.com, Yahoo!, MSN, AOL, Xfinity, Mail.com, and edited several published books. Since 2016, she's published hundreds of articles about Social Security disability, workers' compensation, veterans' benefits, personal injury, mass tort, auto accident claims, bankruptcy, employment law and other related legal issues.